What Is Australia and the Pacific Region Like?
---
---
Get ready to visit Australia and its Pacific neighbors. Find Australia on the map. It sits in the southern Pacific Ocean along with the 1,500 islands that make up Melanesia. To find Melanesia, go to the top of Australia on the map, and then go east. Other island groups in the area are Polynesia (east and south of Melanesia and Micronesia). To find Micronesia, look north of Australia. Micronesia lies north of the equator. These three groups of islands, Australia, and New Zealand are also known as Oceania.
Find central Australia. You will feel the heat of 100ˆ F (40ˆ C) days. This area is hot, dry, and flat. If you are lucky, you might see some kangaroos.
Then it's on to the islands. In Micronesia, you can watch a craftsman carve an entire canoe from a log. In Polynesia, you might help build a home made from palm leaves and bamboo. In Melanesia, you can explore the steamy rain forests of Papua New Guinea.
A sheep ranch in Australia
A kangaroo withher joey
Lady Know geyser, New Zealand
Later, you will travel to New Zealand. Here the climate is milder. There are forests, lakes, and hills. It is home to hot springs and volcanoes.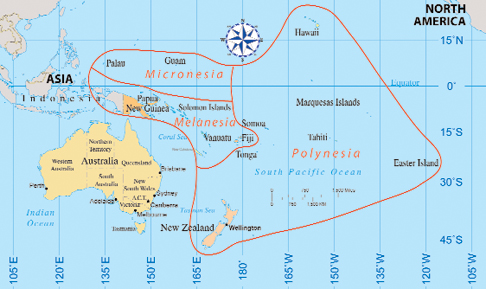 Political Map of Australia and the Pacific Region
Australia has six states: Western Australia, South Australia, New South Wales, Victoria, Queensland, and Tasmania. The country also has two federal territories. The Australian Capital Territory is where the capital is located. The Northern Territory has very few people.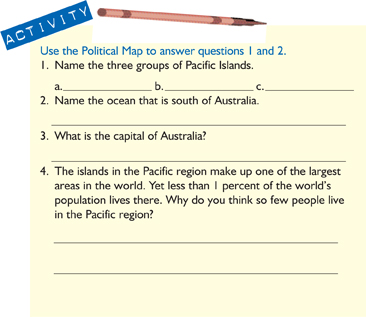 Additional topics